STALAG X1B, near Fallingbostel Germany
STALAG X1B, near Fallingbostel is where the majority of the SAR prisoners of war were incarcerated. The pictures below offer a glimpse of what conditions were like. These pictures are of the camp prior to as well during the war. Prior to the war the camp was used to house civilian labourers who were engaged in work for the German government. When war broke out the camp was used to house both forced labourers and pows. I am grateful to Mr. Jacek Szymak of New Jersey who has allowed me to post these pictures. The pictures were sent to him by his father who still lives in Poland. His family was incarcerated at this camp for the duration of the war. The pictures are of his family. The Polish civilians were kept in the compounds located in the south west corner while the Canadians were located next to the Russian prisoners located in the north east area of the camp.
SAR Veteran Jack Gardiner was in this particular camp and wrote a very interesting article for this site on what life was like for a POW in Stalag X1B.. Jack's article is accessible through the POW PAGES on this site.
*Please ask permission before copying the pictures from this site.
The map is of the general area and the picture appears to be a propaganda post card of the camp prior to the war.
DURING THE WAR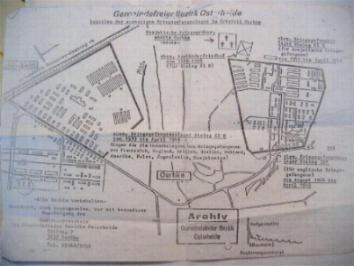 This is a map of the camp during the war. The Canadians were housed in the outlined area in the top right hand side of the picture, next to the Russians and the Polish civilians were in the bottom left hand side (small circled area).
REMAINS OF THE CAMP
BELOW ARE PICTURES OF THE CAMP DURING THE WAR. THIS IS WHERE THE FAMILY OF JACEK SZYMAK AND THE SOLDERS OF THE SAR WERE INCARCERATED